Blackburn Design - Brand Strategy
Blackburn Design is cycling accessories brand that has endured for 40+ years.  Robin Sansom, Offsite's Co-Founder, worked as the director of the brand and inherited it during a transition in corporate ownership and strategy.
At the outset, he and the team dove into the rich history of the brand and worked to sort through what worked well, what didn't and then came up with a strategy to move forward.  This was a very collaborative process that involved feedback and buy in from all the departments, from purchasing and sales to finance and executives.  The brand was kickstarted anew with a sense of soul and purpose.
Before claiming to know how to fix the problem, one has to understand what it is. In this case, it was clear that the business had no set marketing goals, yet very established profitability goals. The business needed the same sense of direction and purpose for the brand, to help achieve the financial goals.
With the help of a ton of research and interviews, we learned that the adventure/touring legacy of the brand was extremely valuable. We also found that design and durability were important, and that products needed to be timeless, but also democratic.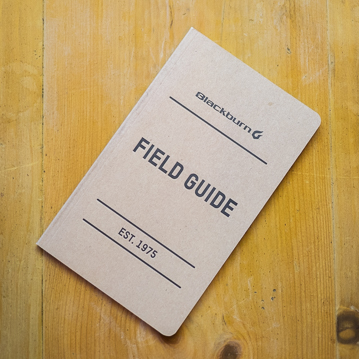 Using what we heard, a comprehensive brand book was developed, primarily using in house resources. This book was given to anyone that touched the brand and was held up at strategy sessions, product development meetings and sales presentations.
The strength of any brand lies in the circle of folks that support it. We built an amazing community from the ground up, by creating a unique ambassador program, as well as hosting overnight rides and events wherever we went.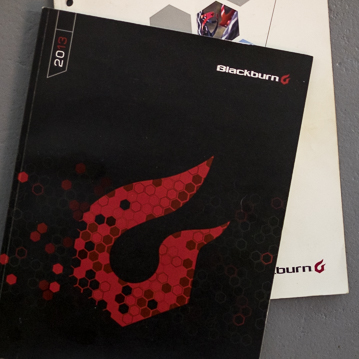 Because the business didn't have an established mission, vision or any other leading brand principles, all of the catalogues, presentations and messaging about the brand were fairly innocuous. Namely relying on product feature copy and iterations of the brand mark.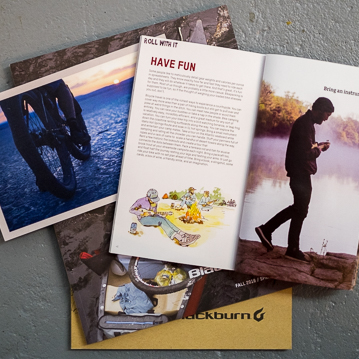 Rich collateral, and a lot of it, came naturally through the development of the brand strategy. Having a distinct point of view meant that everyone involved with the brand knew what to do and could contribute in meaningful ways.
The focus before the brand exercise was to capture the product itself, rather than building a story and inspiration around product. We went to great lengths to sort out every detail that goes into a photo shoot and to have a story behind every image.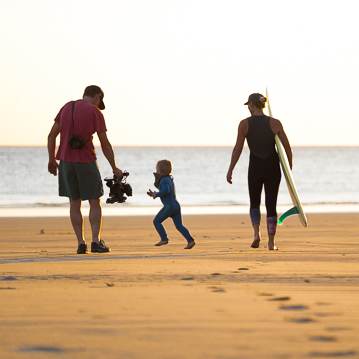 This is perhaps the most powerful tool a brand can employ. From the filming of brand ambassadors and product videos, to producing festival worthy features that appeal to broad audiences, this is the single most engaging work that was done to fulfill the mission of the brand and it's strategies.
None of the successes of Blackburn's brand would have been possible without the passion, hard work, organization, empathy and camaraderie of those involved. Fostering these qualities is something we pride ourselves on.
Helinox - Ad Campaign
Our friends at Helinox wanted to make a bit of a splash at the Outdoor Retailer trade show.  We helped them quickly turn around ads for the show's daily publication.
While holed up in the studio, we brainstormed, white boarded, and thoroughly interrogated the project. Knowing how distracted show attendees might be, we decided that the ads had to be bold and catchy, with an easily digestible message.
Because we had very few assets to lean on, we knew that the copy and colors would need to be the hook in the ads. Along these lines, we developed several concepts for Helinox to review, ranging from borderline lurid to vivid to inspiring to cheeky.
After several iterations and reviews of the concepts, we landed on a series of two word tongue in cheek phrases, that served up key product attributes. The design, featuring handsome product popping against a bold background, was on trend at the show and grabbed attention among all the other shine and glitter.
Helinox - Photo Shoot
Helinox had a crisis of content.  They needed a quality set of photography that covered a broad selection of products AND potential uses, ranging from web banners to social media and catalogue to trade show graphics.  To keep costs down, the shoot was scheduled and condensed into two days. The primary challenge was to organize the locations, models, props and products to play well with the whims of light, weather, tides . . . while at the same time shooting the two completely different aesthetics between Helinox's Outdoor vs. Home collections.
Representing the brand with the diversity and spirit of people that it aspires to serve was important. Also, arranging multiple sets of models at each location mixed up the faces in the photography and kept folks fresh for the long days of the shoot.
Arranging locations that have the right look was important. Just as important, was to mitigate any effects of light variation, wind or other weather related issues, but also the proximity of locations to each other to save time in transition.
It's great to be able to shoot something that looks like a camping trip, by just going camping, but that doesn't always fit product schedules, marketing budgets, etc. We were able to have key elements in the images that help to tell a more nuanced and rich story.